Holla peeps! How was your day? By the way, do you still feel confused to determine the theme that you will use at your son's birthday party? If the answer is yes, let me help you. First, I have two questions which is are your kids obsessed with lego activity and does your husband love to watch Star Wars? If you got both of them, don't worry! Since lego incorporates with the Star Wars saga and franchise in 1999 and extended the license until 2022, you can choose lego Star Wars as your party theme. So, it could be the coolest party ever! And there are great news. First, I've already designed the invitation for you. Second, you can freely choose and it is free! No hassle, no pay.
Free Printable Lego Star Wars Invitation Templates
This 5×7 inch landscape invitations come with intergalactic background-typically Star Wars- and the blank space in the centre. So, you can freely write down your words. Here is the example of birthday invitation wording :
10 years ago in a galaxy far far away 
A gorgeous boy was born and you've been chosen to be a young Jedi 
To save and protect our universe
Please make your move to 
KAJO'S 10TH
BIRTHDAY PARTY
Friday, March 1st 2020
Start at 7.00 p.m
134 Lois st, NY 
RSVP to 887-6789-540
MAY THE FORCE BE WITH YOU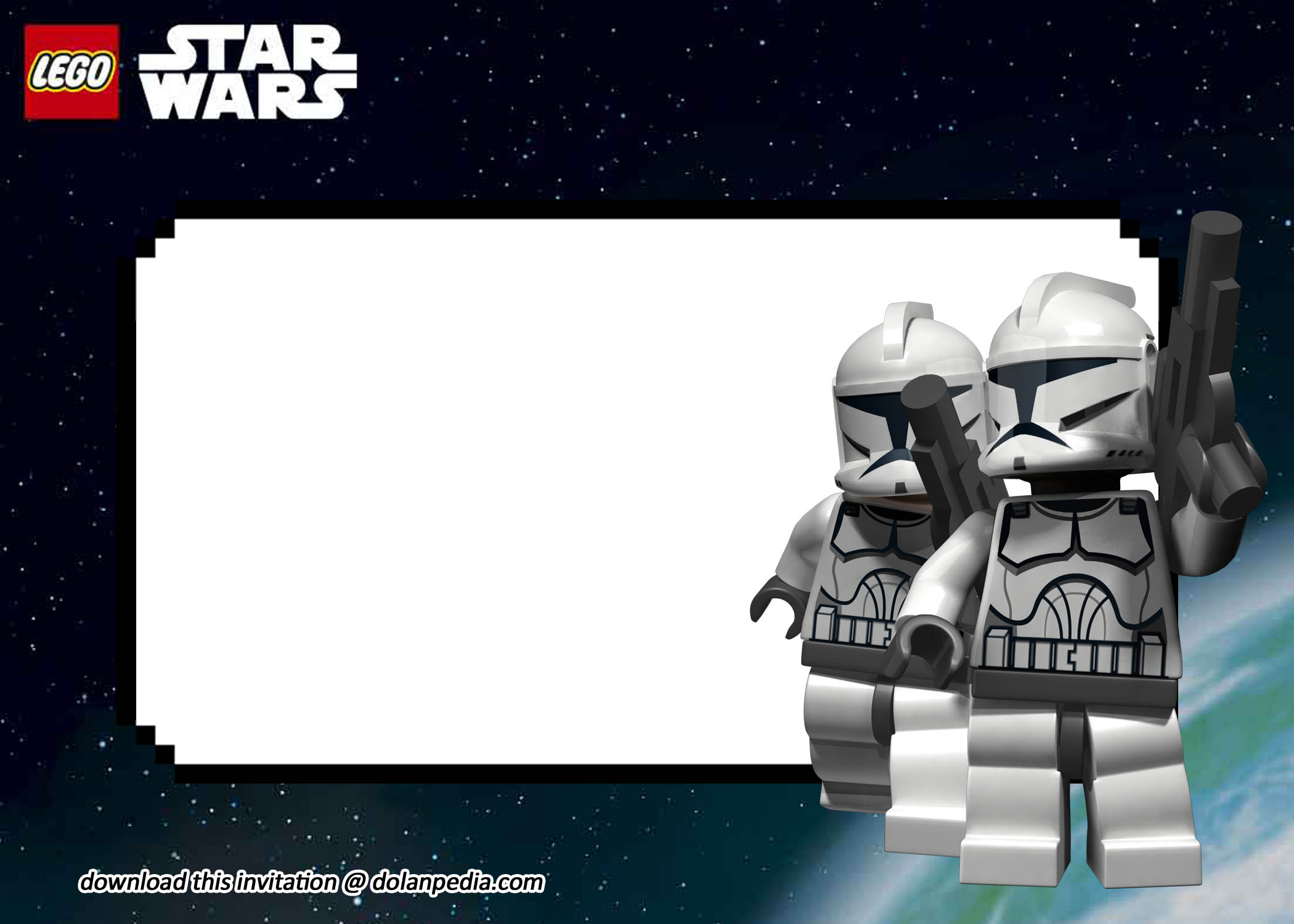 How to Use Free Printable Lego Star Wars Invitation Templates
Don't  panic!All you need to do is just relax, keep your internet connection stable and then go to dolanpedia.com . You will find a thousand of gorgeous templates and themes. Next, select your preference theme based on what you love, for example you can select Free Printable Lego Star Wars Templates. In addition, I'd suggest to read the article before since we provided an useful article for you! Later, choose your selected image and move your mouse pointer into blue-shape download bottom-it is located under the image- and follow the instruction until your image automatically download. Again, you can use photo editor to customize your invitation such as canva and paint, it is freely to choose ! At the end, you can  print it with linen or cardstock paper. See you, Have a nice day!